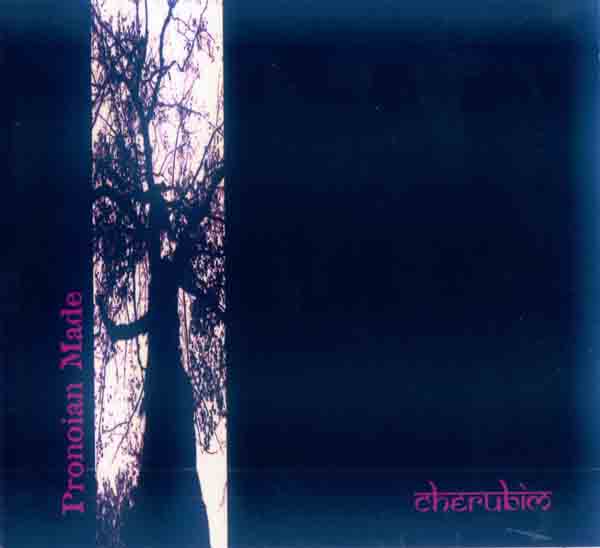 Cherubim


by

Pronoian Made


www.pronoianmade.net

Released: Nov. 2003



Only 12.00 Ä


Groupe Rock aux influences romantiques fond√© au Luxembourg en 1989 par Oliver Made (chant + guitare). Le groupe a d√©j√† donn√© des concerts dans la plupart des pays en Europe et a jou√© tant de fois en premier partie de groupes renomm√©s (HIM, Cr√ľxshadows, Garden of Delight, Toto, Crematory, Clan of Xymox, Zeraphine, And also the Trees, Xandria, Liquido...).
Aujourd'hui ce sont Neal (guitare), Joe May (basse) et comme special guest durant les concerts Nadia Na (sampling et lumières) qui font parti du groupe.
Ils ont jou√© - entre autre - au 11√®me et 13√®me Wave-Gotik-Treffen √† Leipzig et ils figurent chaque fois sur la compilation officielle "K√ľnstler zum WGT" ainsi que sur d'autres: p.ex: Dark Awakening Vol. 3 (2003, All), Zillo-Sope (Juni 2004, All), Sonic-Seducer (Juni 2004, All), Dark Horizons (2004, USA), Gothic (August 2004, D)...
Avec le nouvel album "CHERUBIM" le groupe fait une fois plus la preuve que le rock indépendant pourra être old-school, contemporain et intemporel en même temps. De la musique rock avec des paroles poétiques, critiques, romantiques, visionnaires et "noir".
Au fil des années - 4 CD et environ 150 concerts plus tard - les apparitions du groupe demeurent toujours uniques de par leur ténébreux son, leur présence sur scène et obscures lumières.
Ce n'est pas seulement la musique qui définit le groupe, mais leur "way of life"...
Tracklist
| | |
| --- | --- |
| 1. | Appear and Laugh |
| 2. | Koh-i-nor part II |
| 3. | Inner Circle |
| 4. | The Storm |
| 5. | The Secret |
| 6. | Recurrence |
| 7. | World Bizarre |
| 8. | Last Respite |
| 9. | A Wedding Song (fragment) |